Road Accidents In India A Concern
Road Accidents in India 2011
Every hour, 40 people under the age of 25 die in road accidents around the globe. According to the WHO, this is the second most important cause of death for 5 to 29 year olds.
In India alone, the death toll rose to 14 per hour in 2009 as opposed to 13 the previous year. The total number of deaths every year due to road accidents has now passed the 135,000 mark, according to the latest report of National Crime Records Bureau or NCRB.
While trucks and Two-wheelers were responsible for over 40 per cent of deaths, peak traffic during the afternoon and evening rush hours is the most dangerous time to be on the roads.
This has been revealed by the World Health Organization (WHO) in its first ever Global Status Report on Road Safety. The report pointed to speeding, drunk driving and low use of helmets, seat belts and child restraints in vehicles as the main contributing factors.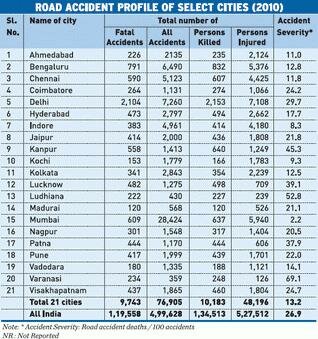 Road safety is a major concern in India as there are many accidents are occurred on Indian roads. According to Transport Research Wing the number of road accidents year on year are In 2009 the total number of accidents are 486384 and the number of persons killed are 125660 where in 2008 the number of accidents occurred 484704 and the number of persons killed are 119860 and in 2007 the total no of accidents are 4, 79,216 and 1, 14,444 killed on road. On an Average 1, 05,000 individual deaths occurred on Indian roads every year, And According to the WHO, India and china are listed among the most number of accidents. The main reason behind the road accidents in India is fault of the driver.
Many drivers don't follow traffic rules, and refuse to wear helmet and avoid seat belt. This include
1) Rash Driving.
2) Crossing Speed Limit.
3) Jumping Signals.
4) Avoiding Seat belt.
5) Drunken Driving.
6) Overtaking Aggressively.
7) Cell phone driving.
The Main Causes of Road Accidents in India.
There is sharp increase in the road accidents in India as there is an increase in numbers. According to Transport Research Wing, The number of accidents occurred in India alone in 2009 are 4, 86,384 and the persons killed in road accidents are 1, 25,660. This is a major concern. Because on an average the numbers of persons killed on road per day are 344 and 14 per hour. And 1332 road accidents occurred where 56 accidents per day.
Causes of Road accidents. The main cause of the road accidents is fault of the driver with 78.5 percentage and fault of the pedestrian is 2.2 percent, fault of the cyclist with 1.2 percent, defect of the road with 1.3 percent, defect of motor cycle 1.8, whether condition 0.8 percent, all other causes with 14.2 percent. In 2009 around 4,90,000 road accidents occurred where 500000 persons injured. So road accidents are a major concern as there are many deaths and loss of property as well as suffering of family members. As on whole is there a loss of GNP to the nation.